The new normal
So those of us that had hopes that the vaccine would allow an eventual return to normalcy (I among them) were hopelessly naive. We are stuck with this pandemic for the forseeable future. The vaccine isn't the problem, it is extraordinarily effective- ~98% of the people in the hospital now are NOT vaccinated. The problem is politics.
Right now in the US just over 60% of people have received at least one dose of the vaccine. And it seems at this time ~20-30% will not only refuse the vaccine, but will refuse to abide by ANY public health measures designed to save lives- And it is Republicans that have, in large part, decided to take the pro-covid stance:
Republicans (37%) continue to be those most likely to say they will not get the vaccine, and that number statistically is little changed from last month (39%). Just 5% of Democrats and 17% of independents say they will refuse the shot.

Support for a booster is strong: 81% of fully vaccinated Americans say they will, or have already gotten, a booster shot. 19% say they will not or are unsure.

Support for employer vaccine mandates has flipped. Half of Americans (50%) support employers requiring employees to get vaccinated in order to work in person while 44% do not. In our July poll, 44% supported these mandates and 50% did not.

There's a wide partisan split on the issue of employer vaccine mandates. 82% of Democrats support them, while just 19% of Republicans feel the same. Independents divide. 45% support them and 47% do not.

As for schools requiring masks for students and staff, 65% of Americans support it. This includes 91% of Democrats, 32% of Republicans, and 66% of independents. Although a majority (54%) of parents of school-aged children support mask mandates in schools, 44% oppose the requirement.

A majority of Americans support a national mandate requiring indoor masking in public spaces (56%), including 86% of Democrats, 26% of Republicans, and 54% of independents.

A majority of Americans (53%) believe getting vaccinated is "everyone's responsibility to protect the health of others," while 43% say it's a "personal choice."
So we have one side trying to do its part to end the pandemic, and one side that refuses to. Not just refuses to do their part- no that isn't enough for them- they are actively trying to undermine the efforts of others… Tucker Carlson is telling his audience to forge vaccination cards, mandated vaccines which have LITERALLY been part of American life since the founding of our nation are being called socialism, or compared to the fucking holocaust. Not wearing a mask has become a way to show you are a 'freedom loving patriot' in their eyes… when the reality is they are parasitical sociopaths.
"When stupidity is considered patriotism it is unsafe to be intelligent"-Isaac Asimov
So how stark is this divide? I took the time to plot vaccination rates of the states vs the percentage of the state that voted for Trump… I strongly suspected there would be a correlation, but even I was surprised by the results: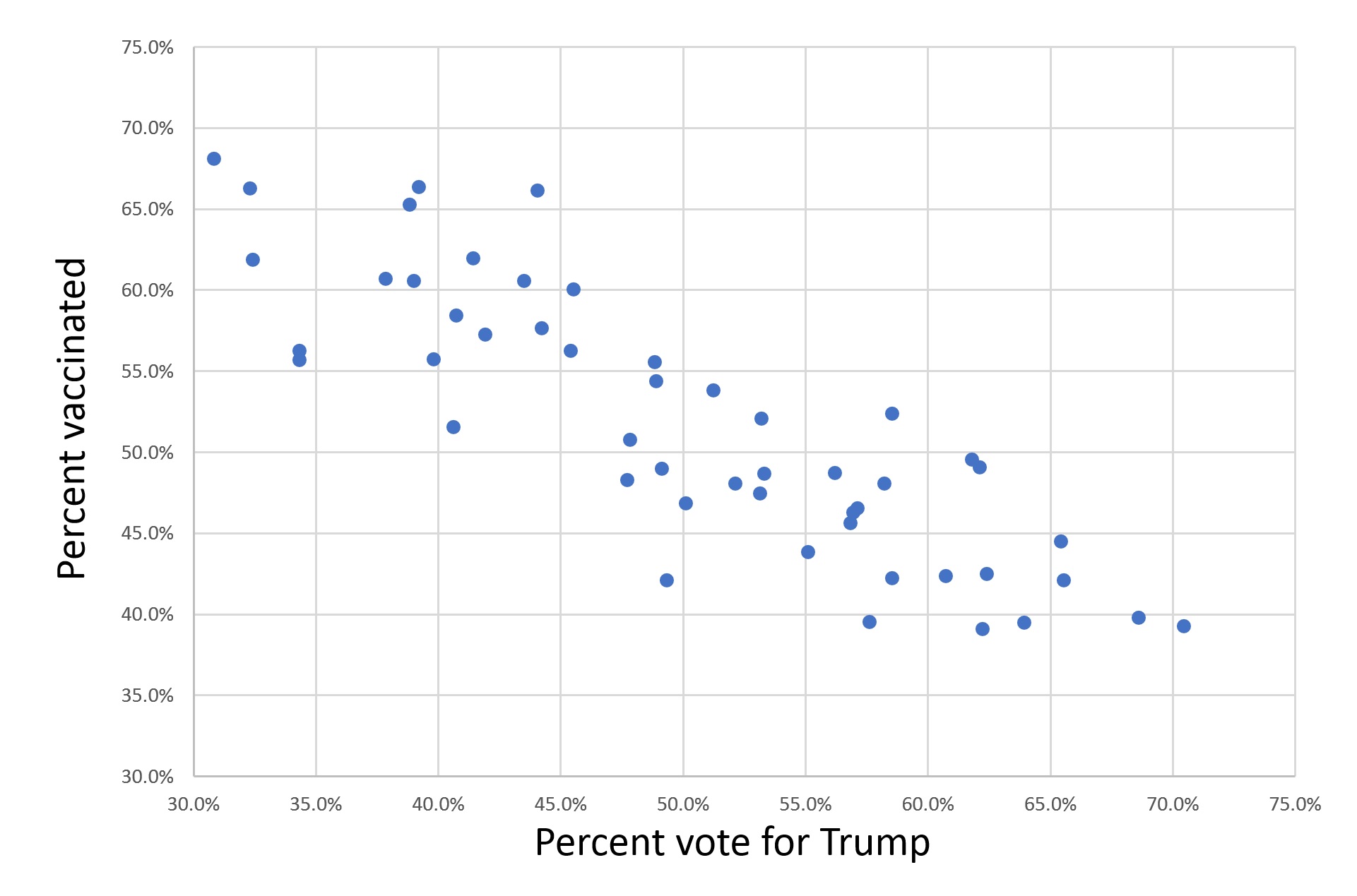 I also looked also at the current number of people hospitalized with covid per 100k population as of September 3rd in those states vs the percent that voted Trump. Still a correlation- even given that other factors like population density play into this number. (Higher population density will drive the number higher, but THOSE states are more likely to vote democratic)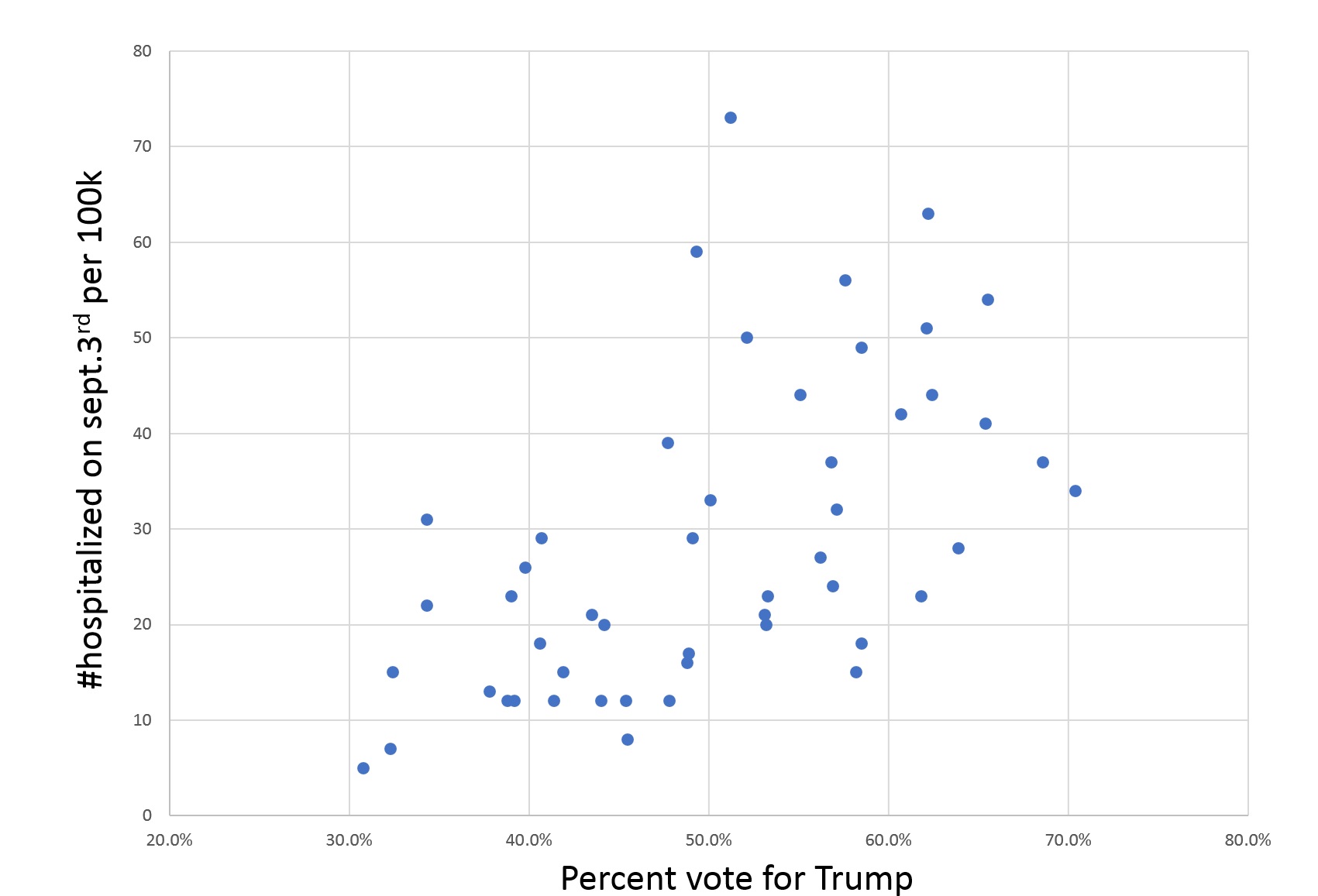 The low vaccination Trumps states are also states where the GOP leadership actively opposes public health measures- for example in Oklahoma (and many other GOP controlled states) they have made mask mandates in schools against the law (resulting in a surge ON TOP OF the surge they were already being overwhelmed by), and compared vaccination requirements to the holocaust. As a result, Oklahomans- mostly hardcore Trumpists- are dying at twice the national rate. Oklahoma hospitals have run out of ICU space, and are even running out of OXYGEN. They are erecting tents to treat patients in the parking lots in the summer heat.
WHY would the GOP push polices that primarily kill their own voters? Simple- they can afford to. In Oklahoma where Trump won with 65% if 1% of GOP voters die from COVID it isn't going to change any election results. BUT the economic pain and widespread death these policies inflict on our nation will improve Republican's chances in the '22 and '24 elections. So GOP politicians implement the very policies the experts say will accelerate the spread. This isn't accidental, or simply stupidity- it is intentional, and it is being marketed to the masses by every right wing news outlet.
They are coldly calculating that by sacrificing a few pawns they can win the game and seize power again. And it may very well work.
So, as a result of all these unvaccinated people in the US and the rest of the 3rd world countries, we will see variant after variant- eventually one more deadly variant will arise that is not stopped by the vaccine at all, and we will get to relive the last 18 months of shutdowns and lockdowns again as we come up with a new vaccine that 30% of the US population will believe is a poison designed to implant 5G tracking microchips and turns people transgender.
Welcome to the new 'normal'.
1,500 Americans are dying from COVID every day, but the GOP has plenty more pawns to sacrifice before this game is over.