The great planetary parade
https://starwalk.space/en/news/moon-in-conjunction-with-mars-venus-saturn-jupiter
All five of the naked eye planets will be observable in the morning sky before sunrise this month, including Mercury, which is rarely observable at all because it is so close to the sun.
From the 2022 Observer's Handbook of the Royal Astronomical Society of Canada:
"It (Mercury)defines the eastern end of a line of naked eye planets that are distributed along the morning ecliptic in order, Mercury Venus, Mars, Jupiter, Saturn. The waning crescent moon bridges the gap between Mars and Venus on the 23rd-24th…"
Mercury will be very faint, but it achieves greatest elongation, about 23 degrees from the sun, on 16 June. This show will be best visible from the southern hemisphere, although observers with a clear eastern horizon should be able to see it from North America. For the best effect, and to avoid possible clouds, you should up get up on several consecutive dawns so you can see the motions of the planets relative to one another.
The illustration below will give you some idea of what you'll see, but I would take it with a grain of salt. It shows the illuminated crescent of the lunar disk pointing AWAY from the rising sun. Its inconceivable a popular astronomical website would make a blunder like this. No doubt their computer graphics nerd is not an astronomer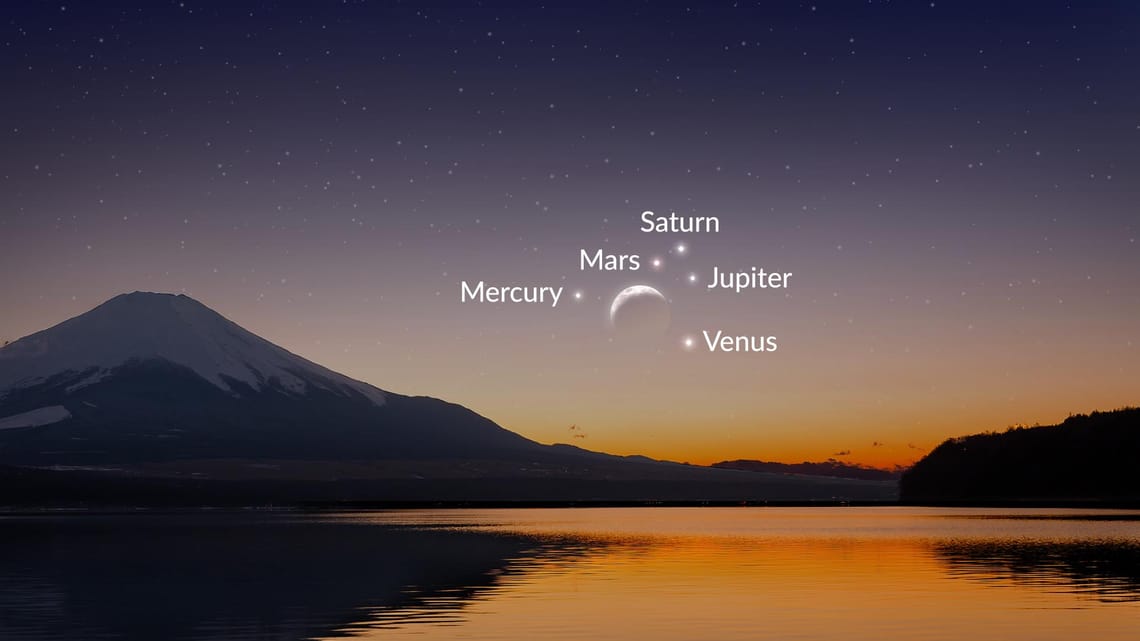 It's monsoon season in Florida, so I doubt I will bother to get up early for this. This is just a chance alignment, a geometric coincidence made possible only by the location in space of the earth, with no physical significance. But it is a pretty sight if you've never seen one, and it drives the astrology community nuts. No doubt they will be solemnly warning us of the dire consequences of this display, without being too clear of just what they might be.